Dear Raegan,

You are three months old today! I wish we could freeze time, because it is definitely going too fast! In the last month, we had your first Halloween! Next week we will celebrate your first Thanksgiving and your daddy's 27th birthday (also on Thanksgiving) in Medford with our family. I know they are all anxious to see you and spend allll day with you!

Tomorrow it is supposed to snow, so if it does, we will get to experience your first snow. It seems like about every day we could write about a first that we have had! It has been a hectic couple of weeks. This last week our daycare was closed, so in the mornings we had to find somewhere for you to stay. Last week our neighbor Susan kept you until Samantha was out of class. This week, it appears it is "Daddy Day Care" time! haha! You will stay here with your daddy until Samantha gets here and then he will go to work. I'm a tad bit jealous that he gets to stay here with you. I just don't have any time I can take off from work since I took eight weeks of maternity leave.

We found out this last week that my grandma's (your great-grandma) cancer has come back. She goes this Friday to have a scan done to see if it is contained in the one spot or if it has spread. We are hoping it has not spread and they will be able to go in and remove the lump and get all the cancer. This is not something I had hoped we would experience again, and definitely not while you are so young!

What can you do these days?

- You take 6 ounces in your bottle, but I try to sneak in an extra ounce at night to make you sleep a little longer. (It doesn't work!)

- You are in a size 2 diaper. They are still a little too big, but the 1's are too small!

- You are still wearing newborn size clothing. You wear some 0-3 month also, but you're still a little peanut.

- You attended your first basketball game last week when we went to Uncle Tanner's game in Medford.

- You babble ALL the time.

- When I come home from school, you get the biggest smile on your face and it melts my heart. I so wish I could be here with you all the time.

- You have rolled over twice in the last week. I'm not sure if it was a fluke or for real!

- If we hold you on our lap, you will push up with your feet until you are standing. We can't believe how strong you are!

- You love to have both hands full of my hair, especially when you are falling asleep. When anyone else is holding you, you grasp for my hair.

- You have reached all the milestones for your age, and are ahead of schedule on others.

- You still suffer from reflux, so at your well baby appointment in December, we will probably be changing your formula.

- When you are lying on your back, you will try to sit up. You are strong enough to make it about half-way before you fall back!

Here are some pictures from the last couple of weeks and a video of you "talking"!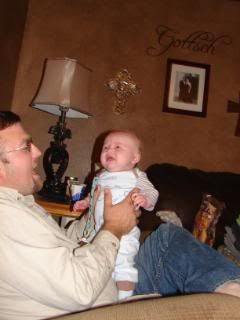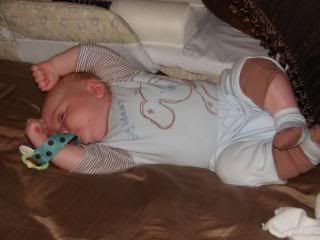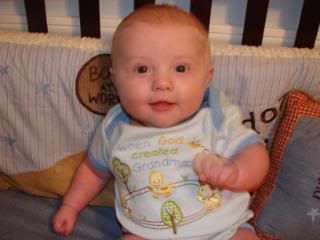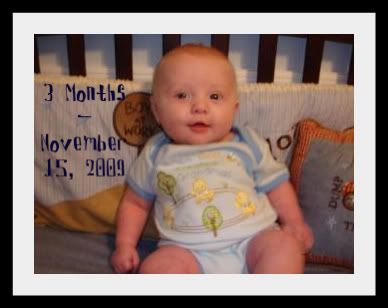 We love you, Raegan, and the person you are becoming!