Happy Birthday Baby!!!

I can't believe you are one year old. This has been the most amazing year of my entire life, but it has gone incredibly fast! Too, too fast! We have a busy week the second week of August:

13th - Grandma and Grandpa Blubaugh's Anniversary (this year was their 55th!)
14th - Grandma and Grandpa Bowman's Anniversary (this year was their 28th)
15th - YOUR Birthday!
16th - My Birthday (25) and Aunt Karen & Uncle Jay's Anniversary (this year was their 24th)
17th - Twin Cousins Chloe & Claire's Birthday (10)

So, because your birthday fell on a Sunday, and because of all the other events that happen around your birthday, we celebrated a day early. It didn't matter, because our house was packed with the people who love you and care for you the most. We had close to thirty people come to help celebrate your first year, and what a year it has been!


This isn't a birthday picture, but it's something you love to do. Your daddy has a habit of leaving his laptop on the couch and you love to come in and move it to the floor and pound on the keys. Except on this day, you decided to use it as a chair instead.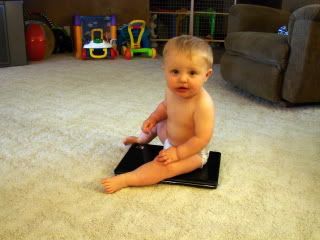 We had a western party for you, and you ate up every bit of it. Here are your cakes: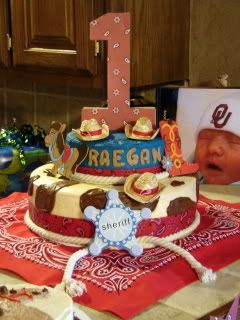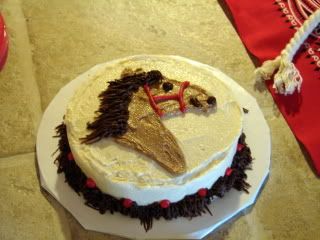 (Smash Cake... and smash you did!)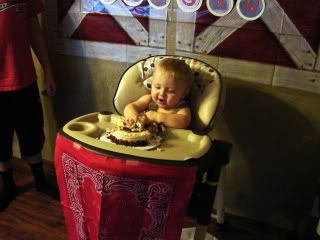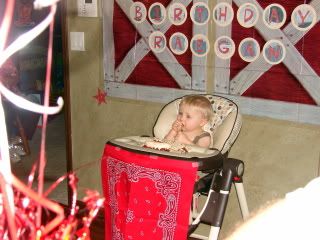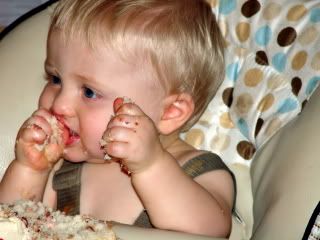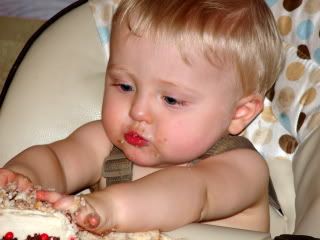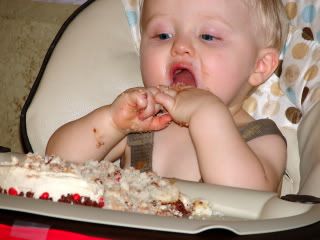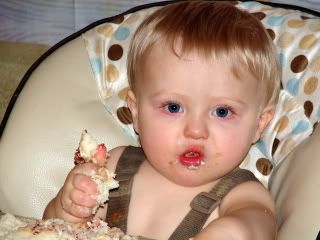 Uncle Tanner will love this picture: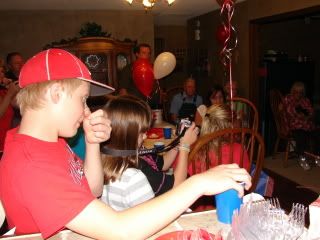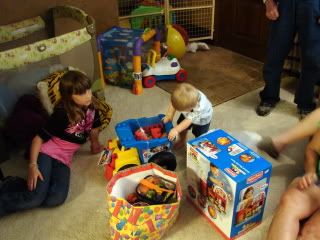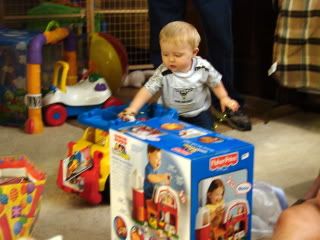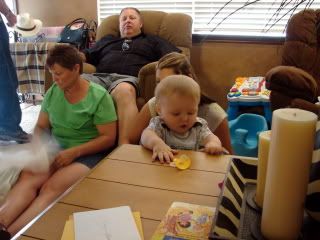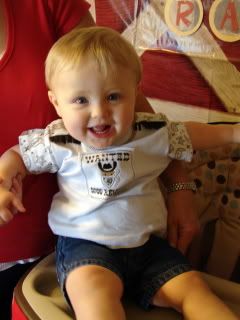 On the day of your party, we had the big gate between the living room and dining room open. You figured out that you could get out of the living room and you took off as fast as you could. This picture is me chasing you in the kitchen. You thought it was hilarious. :)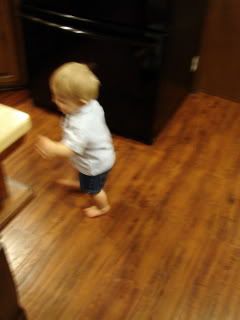 You had a wonderful day, and we had a great time celebrating you! We are so blessed by you and can't wait to continue watching you grow.

You started a new daycare when I started back to school (work) and you love it there. It makes it so much easier to go to school this year. You eat big boy food and seem to really like that.

We switched you to whole milk a week before your birthday and you didn't have any trouble with it. And I have to say, I am loving that I can walk right past that formula aisle and not have to break the bank to buy any. :) You wear a size 4 diaper and size 6/9 month clothes. You are also wearing some 9/12 month things. You go to sleep at night at around 9:00 and will usually sleep in your pack-n-play (in our room still) until about 2:00. After that you usually end up in bed with us. You wake up at about 7:00 a.m. This summer you would take a morning and afternoon nap, but now you don't take a nap in the mornings, just one after lunch for about 2 hours. You must get VERY worn out at daycare because we come home and usually we both fall asleep around 4:30 and sleep for about an hour or until daddy comes home. :)

We are fixing to switch doctors, so we haven't had your one-year well baby appointment yet, so I'm not sure your height/weight.

You love to play ball and play with your building blocks and your books. Charlie loves you and you love Charlie. You love to chase him and then tackle him. Silly cat... he evidently doesn't mind, because he comes back for more. :)

You say "dada", "mama", and just this week have tried to repeat "thank you" and "i love you".

We love you, Raegan. More than you'll ever know!