Raegan,

We have had quite the week.

Tuesday morning I fell while carrying you down the stairs in the garage on our way to school. I was able to brace myself with one hand and hold on to you with the other. We banged heads pretty hard and I have a nice bruise on my arm, but other than that it appears everything is okay.




We've done tons and tons of playing outside this week. It's been nice and you love it!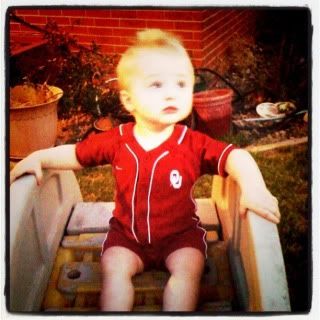 Silly Boy!

You are very brave. You like to climb up the slide all by yourself and then go down as fast as you can. We used to count to three first, but now you have no time for that silly business!




Friday I had to judge a contest in Stillwater. You stayed in Medford and went to Uncle Tanner's baseball game. It was storming really bad there, and there was even a tornado warning, but the sirens were broken and the TV was not working, so you, Tanner, and grandma never went to a shelter. Luckily nothing touched down, but your mama was scared in Stillwater knowing what was going on where you were!

Saturday we made a late trip to Cherokee. We went and ate with your grandpa, picked up our taxes, then came home. You like your baseball cap that grandma's friend Tammile got for you: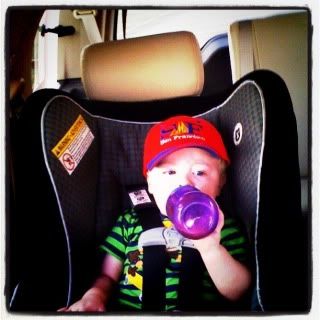 Today we have done absolutely nothing. We took a long nap earlier and when we woke up, your daddy had done the laundry and had cleaned the kitchen for me. We played inside, swung outside in our backyard, and you chased Bruiser and Daisy around in the backyard. After dinner, you played in the bathtub and brushed your teeth, and now you are out for the night (hopefully, probably for three or four hours ;)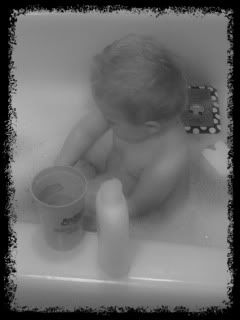 Love, love, love you my sweet boy!