1/30/11
1/4/11
The last month and a half has gone so fast. After Thanksgiving I only had three weeks of school until Christmas break. You finally got over the flu crud that you had. On New Years Eve your daddy and I went to eat and we also went and watched Little Fockers. There is a scene in the movie where the little boy throws up all over his dad - we laughed and laughed because that was the scene in our house for the three weeks that you were sick. I'm also glad your daddy was willing to split the clean-up duties with me...made it a little easier to deal with. :) I'm so glad you're back to yourself, and eating again!

You had a big two weeks right around Christmas. You made your first trip to Branson the first half of my Christmas break. Your daddy, Uncle Tanner, you, and I all made the trip. We were supposed to go over Fall Break, but about an hour before we left we got the awful phone call that Noel had been killed while at the lake with your grandpa and the youth group. I was worried about the drive there since you aren't a big fan of the car lately. You showed me, though, because you fell asleep in Ark City and slept the rest of the 4 hours to Branson!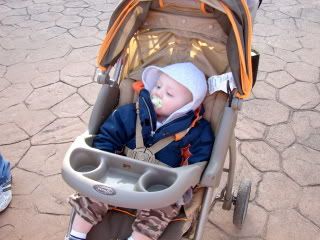 We got to do lots of things in Branson during our five days there. We went to Silver Dollar City where your daddy and Tanner acted goofy all day. Your daddy took you on a frog ride and I was paranoid the whole time, even though it was a pretty risk-free ride. You laughed while you were on there, so I think you liked it.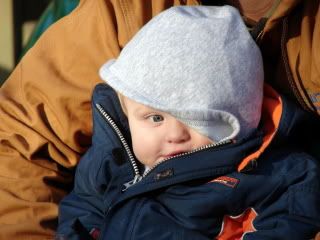 We rode on the train, which you liked also. You and I went to the Frosty show while your daddy and Tanner were riding rides. We visited a lot of shops... We went to a part of the park that has a HUGE tree house and play area. You loved playing with the foam balls inside.




We watched the first lighted Christmas parade that evening, then made it back to the town square to watch the Christmas light show, and then decided it was getting way too cold and we were ready to go! Sadly, you missed this part because you fell asleep right before the parade was starting. We laid your stroller seat back and you snoozed away -- wrapped in blankets and coats, of course. It was COLD! I was looking so forward to watching you watch the parade and see the Christmas lights, but sleep won! There's always next year!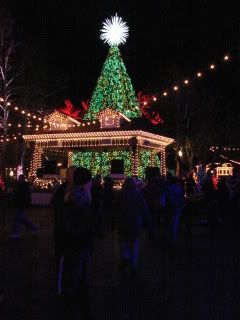 We did lots of shopping and spent some time at the Landing. Our last night we went to the Dixie Stampede and you LOVED it!! You loved all the animals and everything that was going on. It was so much fun to watch you.

When we got home from Branson we had a day to get things unpacked, get laundry done, finish buying Christmas presents, and then it was time to go to our family Christmas.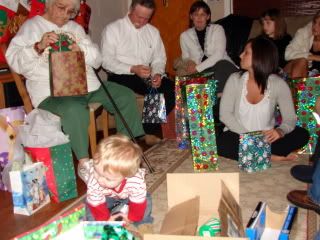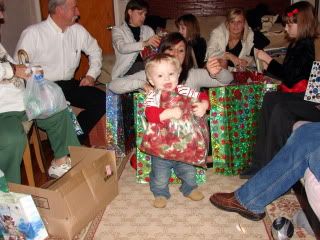 It was nice to be with all our family and you were of course the star of the show. You love to entertain and your little personality is so funny.

On Christmas Day I cooked and your grandma, grandpa, and Uncle Tanner came to our house and you opened your gifts from daddy and I and from Santa. I think you daddy had more fun picking out gifts than you have playing with them. He got you a remote control truck that you have absolutely no clue what to do with -- but he said it was so he could play with it with you. You ended up with lots of new, fun toys and lot and lots of clothes.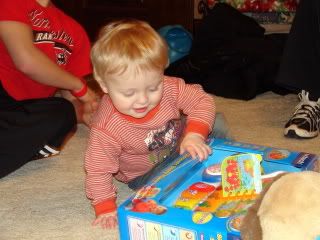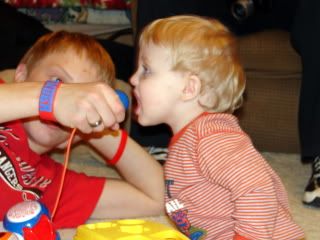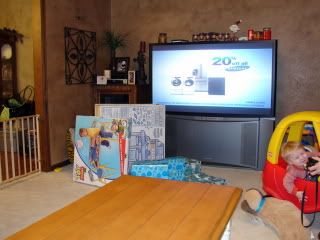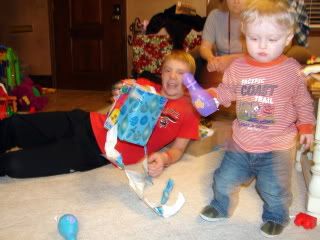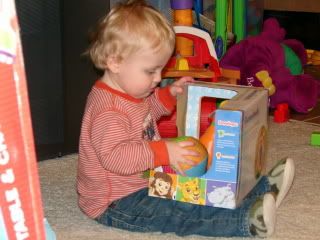 On Tuesday we went to Oklahoma City to visit your great aunt and uncle and their daughter, son-in-law and grandkids who were here from Arizona. We don't get to see them very often, so it was nice to get together. Uncle Jerry and Aunt Bobbie came to the hospital when you were born -- Bobbie came back a couple of times alone to see you before we left also -- but we hadn't seen them since then.

The rest of our week was spent relaxing and playing and watching Little Einsteins. We went to Cherokee Wednesday night to watch the OSU game with Tanner, grandma, and grandpa. On New Years Eve, your grandma came to stay with you while your daddy and I went to the Vintage House and then to the movies. When we got back, we all went to Cherokee to grandma and grandpa's house. Your grandpa had his youth group kids at the house for a lock-in, so we watched some movies and then came back home about 3:00 that morning.




Saturday your daddy decided it was time to move bedrooms around. We took the mattresses from our guest bed and put them with your crib headboard in your room. We are hoping we can get you to sleep alone. In 16 months, you have never slept without being right next to me. Even the one night we left you, you didn't sleep. So... we have to get something worked out! In three nights you have slept alone in there for about 4 hours each night. Although it's not perfect, 4 hours is more than ever before!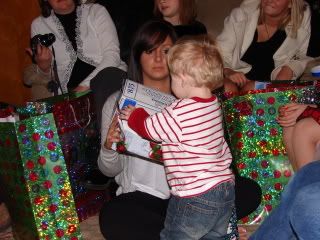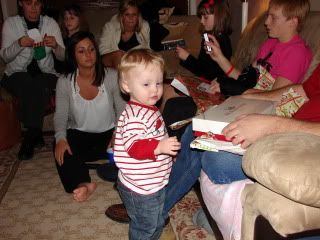 We are also making the guest room a play room. You have so many toys and they have overtaken the living room. We are still in the process of that, but hopefully by this weekend we can get it all moved!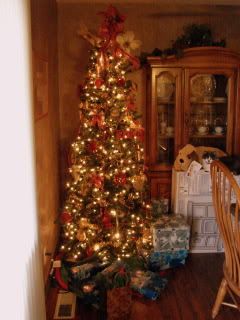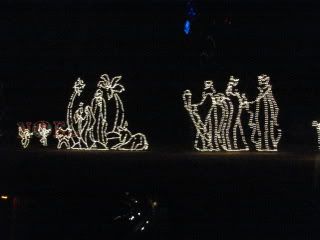 You are becoming so funny! You love for us to laugh at you and you love to laugh. You will come up to us and just talk and talk and then shake your head and say, "Yeah". We have no idea what you're saying, but it's something! You love to point at things and say, "What's that?" You still climb anything and everything. You love to flip all your toys upside down. You love watching Little Einsteins and Barney. You like strawberry cereal bars, yogurt, and lately, peanut butter and jelly sandwiches.

We had a wonderful break, but this week it was back to reality. I miss you during the day and miss being home with you, but hopefully Spring Break is here soon, and then Summer Break.




We love you little man, more today than yesterday but not as much as tomorrow.